September 23
Saint Pio of Pietrelcina
Priest, 1887 - 1968
Padre Pio was born Francesco Forgione in Pietrelcina, Italy on May 25, 1887. At the age of five, he dedicated his life to God. From his early childhood he showed a kind of recollection of spirit and a love for the religious life. At the age of 15, he joined the Capuchin Franciscan Friars and at the age of twenty three, he was ordained to the priesthood and became known as Padre Pio. The celebration of the Holy Mass was the center of his spirituality. He lived at San Giovanni Rotondo, Pietrelcina, in the Franciscan spirit of poverty with detachment from self, from possessions, and from comforts.
After celebrating morning Mass on September 20, 1918, while praying in thanksgiving before a crucifix, he received the Stigmata. Padre Pio was the first stigmatized priest in the history of the Church. Upon his death in 1968, the wounds were no longer visible, there was no scaring and the skin was completely renewed.
He died on September 23, 1968 and was beatified on May 2, 1999 and canonized by Pope John Paul II on June 16, 2002.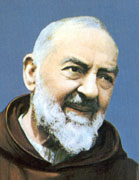 Prayer
O Lord, we ask for a boundless confidence and trust in Your divine mercy, and the courage to accept the crosses and sufferings which bring immense goodness to our souls and that of Your Church. Help us to love You with a pure and contrite heart, and to humble ourselves beneath Your cross, as we climb the mountain of holiness, carrying our cross that leads to heavenly glory. May we receive You with great faith and love in Holy Communion, and allow You to act in us, as You desire, for Your greater glory. O Jesus, most adorable heart and eternal fountain of Divine Love, may our prayer find favor before the Divine Majesty of Your Heavenly Father. Amen.